Latest Updates

18.07.20
As the new official animated series approaches, it is a good time for me to take a break and review "The Quintain", the latest episode of Curt Danhauser's Star Trek Animated. The episode is a homage to James Doohan, who would have celebrated his 100th birthday in 2020.

08.06.19
A message by Travis Anderson on the occasion of The SID 20-Year Anniversary.

15.10.18
A new story in the series The Cause by Travis Anderson: Freedom. One year after the arrests made by the Federation-Cardassian Counterterrorism Task Force, Ro and her cell decide to deal with matters while they can. And a second threat arises to face the entire DMZ.

02.09.18
Here is a new novel in the Tales of the SID series by Travis Anderson: Revelations concludes the ten-part story arc. The mystery behind presidential scandals and seemingly random Starfleet policies is finally explained. One thing is certain, the Federation, Starfleet, and the SID will never be the same. But will the galaxy be the better for it?

Fan Film Reviews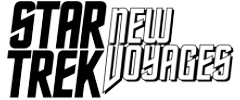 Important Notice
EAS currently doesn't accept new story submissions except from the featured authors. Please visit my partners at the Trek Writer's Guild. They have a database that suits the individual writer's needs better than the static and hand-edited concept of EAS.


Star Trek Renegade by J. Grey
10 years ago the Federation was attacked by their most fearsome enemy, the Borg - but how far are they willing to go to protect themselves now?

Star Trek Renegade II by J. Grey


A team in the past blaze a trail into uncharted territory in a struggle to protect the galaxy's future from itself.


Star Trek Universal by J. Grey and R. Cane


The untold tales from around the Federation


Special Investigations Division by Travis Anderson


The Spy, The Rebel, The Doppelganger, The Traitor, The Soldier, The Exile, The Tinkerer, The Mercenary, The Stray, and one ship shared by all. The tale has merely begun...


Tales of the SID by Travis Anderson


The Spy, the Rebel, the Daredevil, the Fighter, the Lightbulb, the Muscle, the Fixer, the Rock, the Brain, and one ship shared by all. The tale continues...


The Cause by Travis Anderson


The tales from the Maquis

More Stories

by various authors


Stories in German
Essays
Fan Film Reviews
Site Map