Latest Updates


18.11.17
Star Trek Continues has released the second part of its series finale "To Boldly Go". Here is my combined review of both parts.

03.08.17
The latest Star Trek Continues episode is titled "What Ships Are For". Read my thoughts on the episode.

08.04.17
Star Trek Continues has released a new episode: "Still Treads the Shadow". Here is my review.

05.02.17
Travis Anderson continues the story of Tom Riker in Course Correction. Tom Riker is drawn into a Maquis web as Chakotay recruits Riker on Kalita's recommendation. The task? To infiltrate and eliminate a Cardassian base located within the Demilitarized Zone. In doing so, the Maquis provide Riker with a crisis of conscience.

Fan Film Reviews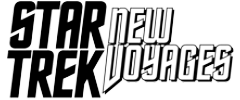 Important Notice
EAS currently doesn't accept new story submissions except from the featured authors. Please visit my partners at the Trek Writer's Guild. They have a database that suits the individual writer's needs better than the static and hand-edited concept of EAS.


Star Trek Renegade by J. Grey
10 years ago the Federation was attacked by their most fearsome enemy, the Borg - but how far are they willing to go to protect themselves now?

Star Trek Renegade II by J. Grey


A team in the past blaze a trail into uncharted territory in a struggle to protect the galaxy's future from itself.


Star Trek Universal by J. Grey and R. Cane


The untold tales from around the Federation


Special Investigations Division by Travis Anderson


The Spy, The Rebel, The Doppelganger, The Traitor, The Soldier, The Exile, The Tinkerer, The Mercenary, The Stray, and one ship shared by all. The tale has merely begun...


Tales of the SID by Travis Anderson


The Spy, the Rebel, the Daredevil, the Fighter, the Lightbulb, the Muscle, the Fixer, the Rock, the Brain, and one ship shared by all. The tale continues...


The Cause by Travis Anderson


The tales from the Maquis

More Stories by various authors
Stories in German
Essays
Fan Film Reviews
Site Map